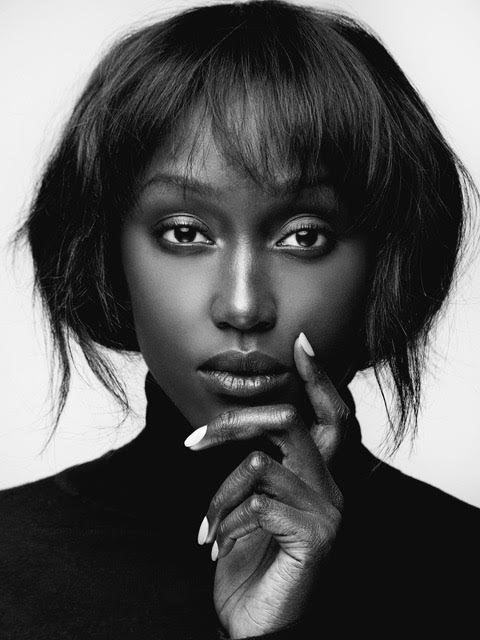 Photo credit : Dariane Sanchez
Kimberley Ann Surin
Director | Screenwriter
Based in Montreal, Kimberley Ann is a French-Canadian with Haitian descent filmmaker. She graduated in 2016 from Pennsylvania State University in Communications – Film and TV. Over the years, she had the chance to work on a variety of interesting and different projects, from fiction to documentary, advertising and promotional commercials to publicity, as well as animation. She has gained experience working for several production companies, including Warner Brothers, Reel FX, Sphère Média Production, and Aetios Productions, in production.
In 2020, she directed and wrote her first documentary Against All Odds, a short film about the lack of diversity in professional and junior hockey with retired NHL player Georges Laraque as the main protagonist. In early 2021, she directed, wrote and produced her second short film, Nourrir les Rêves, which premiered at the HotDocs International Film Festival, now available on Crave.
Her focus in all her creative work is to uplift the voices of Black, marginalized, and under-represented talent in front of and behind the camera. Kimberley Ann is making the leap from documentary to fiction world and is currently writing her feature-length fiction film, Through the Eyes of the Quiet Lion, as well as writing an anthology series with Bell (Crave), developing a short film project, plus a web series.
FIlmography
Through the Eyes of a Quiet Lion (À travers les yeux du Lion tranquille)
In development
Feature film, original drama
Director and screenwriter
* Téléfilm development grant
* CAC Development Grant (Canada Council for the Arts)
Awards
Won the PRISME pitch contest by Main Film.
The Relay: Beyond the Last Name (Le Relais: Au-delà du nom de famille)
February 2022
Feature documentary
Director and screenwriter
Inuition Pictures Inc | Afro Dynamic Films
CBC
Nourrir les rêves
2021
Short documentary film | 6 min
Co-director and co-screenwriter with Aïcha Morin-Baldé
Producer: Kimberley Ann Surin, Lauren Grant and Lisa Jackson
Distributor : Crave
Awards
FESTIVALS
HotDocs International Festival, 2021
Contraste
In development
Webseries Drama-Sport | 6x12min
Director and co-screenwriter with Thomas Soto
Producer: Marie-Christine Toupin | Productions Mate Inc
Festival
In development
Anthology Drama Series | 6x30min
Co-screenwriter with Kadidja Haïdara, Seydou-Junior Haïdara Adeline Bird & Josiane Blanc
Showrunner: Adam Pettle
Producers: Marie Ka, Damon D'Oliveira, Richard Jean-Batiste
Bell (Crave)
9 Secondes
In development
Short film Drama-Sport
Director and screenwriter
Unity (Unité)
In writting
Drama-sports series | Fiction 6x60 min
Director and co-screenwriter (with Thomas Soto)
À ma fille
In development
Short film - drama
Director and screenwriter
Awards and Distinctions
Winner of the PRIME pitch contest, development grant | 2021
All-Big Ten University Academic Honor Roll | 2016
The Southeastern Conference Academic Honor Roll | 2014
Production
FABRIQUÉ
In development
Web-series fiction 8 x 10 minutes
Producer (Afro Dynamic Films)
ICI Tou.tv
Other professional experiences
Project Manager + Author
2020-2021
TC Média Livres (Realize, write and manage the production in the department)
Halo Création (advertising and multimedia projects)
Production Coordinator
2016-2020
SPHÈRE MÉDIA PRODUCTIONS
• Documentary Series — Elles parlent aux animaux
• Documentary Series — Célibataires à boutte
WARNER BROS. ANIMATION
• Film Animation — SCOOP! (Scooby Doo!)
AETIOS PRODUCTIONS
• TV/Fiction — District 31 - Season I, III, IV
• TV/Fiction — Le Cheval-Serpent - Season II
• TV/Fiction — Ruptures - Season III, IV, V
• TV/Fiction — Blue Moon- Season I, II, III
• TV/Fiction — Unité 9 - Season VI
• Documentary — District 31 - Les commandants
• Documentary — Unité 9
• History capsule — Historica Canada - Boat People
Trainings and Workshops
MAIN FILM - P.R.I.S.M.E
2021
Professional training focused on the production profession and the integration of audiovisual production networks.
Trainers: Miryam Charles, Richard Jean-Batiste, and Hany Ouichou
L'Inis – Program : Directing and Writing Documentaries
2020
Black Anti-Racism Training and Aboriginal Anti-Racism Training
2021
Committees
IMPACT-APTCMI • Executive Board
2020 - today
Co-Chair of the Unity Summit
National organization for independent media producers in Canada, created in order to unify our voices and better support members from Black, Indigenous People of Colour, LGBTQ2SI+, Trans, underrepresented and marginalized independent producers and companies in Canada
Education
Pennsylvania State University
2016
Bachelor's degree in Communication, Film & TV | Minor in General AffairsConference BIG 10 • Tennis player • Team Captain • Screenwriting classes • Short films: How Bad To You Want It? and My Athlete Life