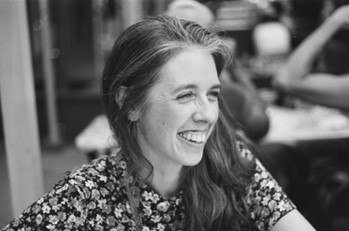 Photo credit : Kristina Wagenbauer
Marie Davignon
Cinematographer
Marie Davignon is a cinematographer from Montreal. She was recently nominated at the Canadian Screen Awards for "best cinematography" for her work on Tracey Deer's coming of age on the Oka crisis, Beans. The film that premiered at TIFF 2020, also won "best motion picture" at the CSA, the Cristal Bear at the Berlinale 2021 and "Best Canadian Film" at the Vancouver International Film Festival in 2020.
Marie also signed the images of numerous and diverse projects such as the feature Black Conflux by Nicole Dorsey (TIFF, Canada's top ten, WIFF, VIWFF, SBIFF…) for which she won an award for best cinematography at the Vancouver International Women in Film Festival and was nominated in the same category at the Whistler International Film Festival. She was also nominated for best images at the Canadian Screen Awards for her work in Micro_Scope's documentary All that we make by director Annie St-Pierre and at the Vaughan International film festival for her work on Black Friday by Stephane Moukarzel.
Marie's latest work includes Netflix's sequel Code 8 part II and New Regency's series Balestra.
Filmography
Balestra
In production
Feature film
Cinematographer (Director Nicole Dorsey)
Production Item 7
Code 8 Part II
In post-production
Feature film
Cinematographer | Director Jeff Chan
Netflix
Grand Frère
2021
Short film
Cinematographer | Director Rémi St-Michel | Screenwriter Eric K. Boulianne
Awards
FESTIVALS
Prends Ça Court! – Official Selection, Montréal 2021
Festival SPASM, Montréal 2021
Miette
2021
Short film
Cinematographer | Directed by Camille Trudel and Maude Bouchard
Production Colonelle Films | Distribution Welcome Aboard
Awards
FESTIVALS
Regard 25ème édition - Compétition Officielle, 2021
Festival Cinémania - Sélection officielle, 2021
Trophée
2021
Short film
Cinematographer | Director Sandra Coppola
Production ByPass films | Distribution Welcome Aboard
Awards
FESTIVALS
REGARD 25th edition *Youth Competition, 2021
Beans
2020
Feature film
Cinematographer | Director Tracey Deer
Production EMA Films
Awards
Crystal Bear Winner - Berlinale, 2021
Winner of the best Features Film at the WGC Sceenwritting awards, 2020
DGC Discovery Award
Canadian Screen Awards - Best Motion Picture of the Year and 3 Nominations including Achievement in cinematography, 2021
Toronto International Film Festival (World Premiere) - TIFF Emerging Talent Award & TIFF's Rising Star, 2020
Vancouver International Film Festival, Canada - Best Canadian Film & Most Popular Canadian Narrative, 2020
Yukon Available Light Festival - Best Canadian Feature, 2020
Kingston Film Fest - Audience Choice Award, 2020
TIFF Canada's Top 10 (2020)
FESTIVALS
The film has its world premiere at TIFF in Official Selection, Toronto, 2020
Sao Paulo Film Festival, Brazil
Los Cabos Film Festival, Mexico
Berlinale, Generation Kplus, Germany
Athena Film Festival, USA
Miami Film Festival, USA
New York International Children's FF, USA
Cinequest Film & VR Festival, USA
Seattle International Film Festival, USA
Hawai'I International Film Festival Spring Edition, USA
Ashland Independent Film Festival, USA
Columbus International Film and Animation Festival, USA
Milwaukee Film Festival, USA
Minneapolis St. Paul International Film Festival, USA
Maryland Film Festival, USA
Provincetown International Film Festival, USA
USA Film Festival, USA
Maine International Film Festival, USA
Black Conflux
2019
Feature Film
Cinematographer | Director Nicole Dorsey
Production Band With Picture
Awards
Vancouver International Women in Film Festival | Winner "Best Cinematography", 2020
Whistler Film Festival – Official selection | Nominated for best cinematography, 2019
TIFF Canada's Top 10 (2019)
FESTIVALS
Santa Barbara International Film Festival– Official selection, American premiere, 2020
Opening the 30th St. John's International Women's Film Festival – Newfoundland, 2019
TIFF 2019 – Official selection
FNC 2019 – Official selection
Cherche femme forte
2019
Short film
Cinematographer | Director Marilyn Cooke
Production Cinquième Maison
Sashinka
2017
Feature Film
Cinematographer | Director Kristina Wagenbauer
Production Art et Essai
Awards
Public Award – Journées de Soleure, Switzerland 2019
Jury'choice – Festival Dona y Cine à Valence, Spain 2019
Indie Spirit Award – Naples International Film Festival, U.S 2018
FESTIVALS
Seattle International Film Festival, U.S. 2018 – Official Competition
Whistler International Film Festival, Canada 2018 – Official Competition
Cinefest Sudbury International Film Festival, Canada 2018 – Official Competition
Filmfest Bremen International Film Festival, Germany 2018 – Official Competition
TOFIFEST, Poland 2018 – Official Competition
Black Friday
2017
Short film
Cinematographer | Director Stéphane Moukarzel
Production Reprise Films
Awards
AWARDS
Pierre Falardeau Award – Les Prix « Prends Ça Court! », Québec 2018
Nomination for Best Cinematography – Vaughan Int. Film Festival, Canada 2018
FESTIVALS
FCVQ, Québec 2018 – Official Competition
FICFA, Moncton, Canada 2017 - Official Competition
Québec en Court! - Projection Marché Clermont-Ferrand, France 2018 Clujshorts Film
20 MIN/MAX Film Festival, Germany 2018 – Official Competition
Rendez-Vous du Cinéma Québécois, Montréal 2018 – Official Competition
Regard, Saguenay, Québec 2018 – Official Competition
Les P'tites Vue - Centre Pauline Julien, Trois-Rivières – Québec 2018 – Official Competition
Festival Interactif de Cinéma de Lévis, Québec 2018 – Official Competition
Regina Film Festival - Canada 2018 – Official Competition
Figari Film Festival - Italie 2018 – Official Competition
One Country, One Film - France 2018 – Official Competition
A Delusion of Grandeur (Une idée de grandeur)
2013
Short film
Cinematographer | Director Vincent Biron
4C Productions
Awards
FESTIVALS
TIFF, Canada 2014 – Official Competition
Atlantic Int. Film Festival 2014 – Official Competition
Pacific Meridian Vladivostok Film Festival 2014 – Official Competition
OZU Film Festival Italy 2014 – Official Competition
Festival Longue Vue sur le Court 2014 – Official Competition
Festival Int. du Court Métrage de Clermont-Ferrand, France 2015 – Official Competition
Les Rendez-Vous du Cinéma Québécois 2015 – Official Competition
Regard sur le Court métrage 2015 – Official Competition
Norwegian Int. Short Film Festival 2015 – Official Competition
Struggle (Faillir)
2012
Short film
Cinematographer | Director Sophie Dupuis
Production Metafilms
Awards
ARRQ Award – Prends Ça Court!, Montréal 2013
Best short film – Rendez-vous du cinéma québécois, Québec 2013
Best short film – Regard sur le court métrage, Québec 2013
Award for Artistic contribution – Olhar de Cinema Curtiba, Brésil 2013
Nomination pour Uppsala Award in Memory of Ingmar Bergman) – Uppsala Film Festival 2012
FESTIVALS
TIFF, Canada 2012 - Official Competition
FIFF Namur, Belgique 2012 - Official Competition
FNC, Québec 2012 - Official Competition
Meilleure mise en scène, Prix Coupe du Court Vision Globale
Festival du Film de la Relève, Québec 2013 – Official Competition
Dresden Int. Film Festival, Germany 2013 – Official Competition
Mecal int. Short Film Festival, Spain 2013 – Official Competition
Kyiv Int. Short Film Festival, Poland 2013 – Official Competition
Mourir sans faire de bruit
2010
Short film
Cinematographer | Director Xavier Beauchesne-Rondeau
Television
Something Undone
2021
TV series | 6 episodes
Cinematographer
Direction: Nicole Dorsey
CBC Gem
Policier Criminel II
2016
Cinematographer | Director Stéphane Moukarzel
N12 Productions | Broadcasting Canal D
Proprio en otage IV
2016
Cinematographer | Director Line Lampron
N12 Productions | Broadcasting Canal Vie
Les contemporains
2014
Cinematographer | Director Bernard Hébert
Production Anémic et Kinetic, Attraction média | Broadcasting ARTV
Légitime dépense
2010
Short fictions, studio shoot
Director Marc Carbonneau
Production Blimp Télé | Broadcasting Télé-Québec
Hors-Série
2010
Studio shoot
Director Françcois Péloquin, Éric Cimon
MC2 Communication Media | Broadcasting TV5
Vente de Garage, Saison 4
2010-2011
Cinematographer | Director Bernard Hébert
Production Claire Obscura | Broadcasting ARTV, Tou.tv
Chez Ménick
2008
Cinematographer | Director Philippe Arsenault
Productions Périphérie
Documentary
Childhood
2018
Short documentary
Cinematographer | Director Peter Svatek
ONF
All That We Make (Fermières)
2014
Feature film
Cinematographer | Director Annie St-Pierre
Production Micro_Scope
Awards
Nomination for Best Cinematography – Canadian Screen Awards, Toronto 2015
Closing Film - Montreal International Documentary Meetings, 2015
Love Under Cuban Skies
2012
Feature film
Cinematographer (additional)
Principal cinematographer Katherine Giguère | Director Wendy Champagne
Esperamos
Recréation
2011
Feature film
Cinematographer | Director Bernard Hébert
Production Claire Obscura
Videoclips
Dreaming | Patrick Watson
2019
Director Joël Vaudreuil
Production Parce Que Films
Fuck shit up | Karl Wolfe
2011
Advertisement
Cinematographer of several commercials, most recently:
Make Love Not Porn | 2019 | Dir. Nicole Dorsey |
Nintendo Switch | 2017 | Dir. Pierre Ouimet |
And many more
Video Installations
Tableau Vivant
2011
Artist Claudie Gagnon
Musée d'art contemporain (Montreal MAC)
La Chaise
2011
Artist Sylvie Laliberté
Musée d'art contemporain (Montreal MAC)