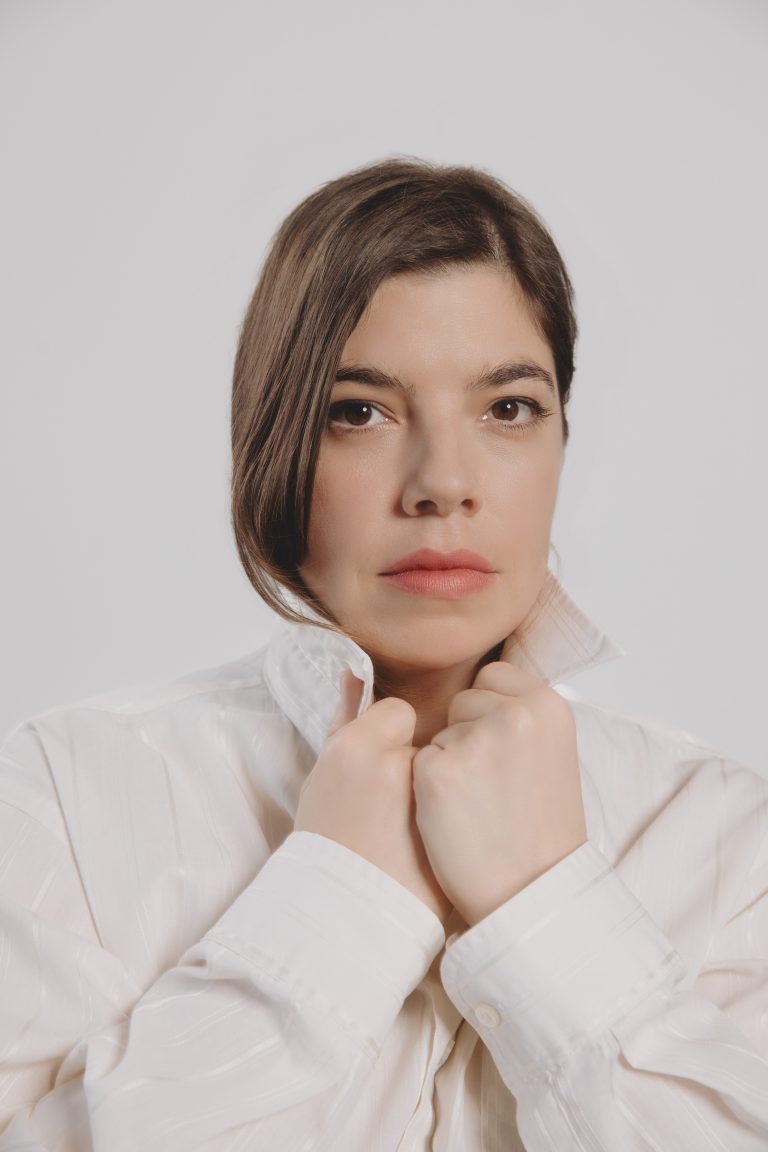 Photo credit : charlie marois
gabrielle chapdelaine
playwriter | autor | screenwriter | translator
gabrielle chapdelaine is a playwriter, autor, screenwriter and translator who lives in montreal. her play a day received the 2018 gratien-gélinas prize, was performed in its english version in two different productions in the united states in 2020-2021 and being programmed at the quat'sous theater in montreal in 2022. she was recently given her first big set by the denise-pelletier theater to adapt the play the doer (le faiseur), a comedy by honoré de balzac, which was presented in montreal in january 2023. she also participated in various theater projects in martinique, france and germany. in television, she collaborated on the quebec adaptation of the french series ten per cent in addition to participating in the writing of other programs. she is currently working on her first feature film, which received development support from sodec. she also translates plays from english to french. she was trained in playwriting at the national theater school of Canada.
filmographie | television
les midinettes
in development
feature film
screenwriter
amérique films
*SODEC funding
us (nous)
2020
script editor
direction yannick savard
duo productions | TVA
the invisible (les invisibles)
2019
coscreenwriter | participates in the adaptation of the screenplay with Catherine Léger and Pier-Luc Lasalle
direction alexis durand brault
production also et forum films | diffusion québécor contenu et TVA
theater
the doer (le faiseur)
2023
adaptation of honoré de balzac's
staging alice ronfard | denise pelletier theatre
a day (une journée)
2022
olivia palacci | à tour de rôle theatre, tableau noir & quai des arts, théâtre de quat'sous
a day (une journée)
2021
staging anne cecelia demelo | carnegie mellon university school of drama | usa
entends-tu ce que je te dis ? kouté mwen titak!
2020
co-writer | staging daniel brière | new experimental theater | tropiques atrium
a day
2020
live video performance in theater "the cherry arts of new york"
adaptation in english trranslate by josephine george | director wendy dann | staging samuel buggeln, artistic director the cherry arts
collaboration with "the cultural service of the québec governement office in new york"
the house (la maison)
2019
cowriter | staging sébastien gauthier | e petit théâtre du nord | city of Blainville QC
how to have a successful evening (comment réussir sa soirée)
2018
david strasbourg | theater alfa | bar le zaricot, brewery dunham, les brasseurs du moulin
the retreat (la retraite)
2018
staging philippe cyr | national theater school of canada
une journée (a day)
2018
staging philippe cyr | national theater school of canada
Awards
laureate of the gratien gelinas prize from the center for dramatic authors 2018
google plus plus
2018 & 2016
staging marie-ève groulx | university of montréal (2018)
jean-philippe lehoux | national theater school of canada (2016)
make friendship (faire l'amitié)
2017
collective creation | vous êtes ici/you are here | la serre_arts vivants, theater at the écuries
monica + julie
2017
diptychs
staging michel-maxime legault | national theater school of canada
worcestershire - municipal tragedy
2015
staging gabrielle chapdelaine | festival zone homa | maison de la culture maisonneuve
awards and mentions
winner of the gratien-gélinas prize from the center for dramatic authors for the play a day
2018
publications
the doer (le faiseur)
2023
the plants are fine (les plantes vont bien)
2019
editor beside média, écrans verts, notebooks
translations
bagages
2021
sarah segal-lazar / festival du jamais lu montréal
chattermarks
2020
written by joseph shragge | cabal theatre production, theater la chapelle
the long spin
gabriel schultz | 3trd space theatre, zh festival
the neighbors (les voisines)
2019
arianna bardesono | imago theatre
zahgidiwin | love
2019
frances koncan | festival du jamais lu
public reading
l'entrepôt
2021
jean-françois auguste / théâtre ouvert, paris / jamais lu
monica, followed by julie
2020
staging jean-françois auguste | studio-theater of asnières-sur-seine | festival du jamais lu paris
the retreat
2019
rose plotek | playwrights workshop montreal
a day
2019
josephine george | ALTA42 | the american literary translation association conference
a day (une journée)
2018
philippe cyr | dramaturgies in dialogue | center of today's theater
translated works
the retreat (la retraite)
2019
english | david gagnon walker
a day (une journée)
2019
english | josephine goerge
other experiences
2021 invited to a two-month writing residency by the jamais lu paris
2021 closing cabaret of the festival of jamais lu paris: l'abc du recommencement
2020 "artificial paradises: the oxymoron cabaret" produced by the festival of jamais lu
2020 to today - board member of directors of the center for dramatic authors (cead)
2020 jury member and writing godmother, le scriptarium 2020, theater le clou
2019 columnist for les ficelles, a feminist podcast on the reality tv occupation double
2019 writing residency at montréal in collaboration with tropiques atrium and the new experimental theatre
2019 writing residency at fort-de-france (martinique) in collaboration with tropiques atrium and the new experimental theatre
2019 speaker at the cegep du vieux montréal about the play a day
education
national theater school of canada
2017