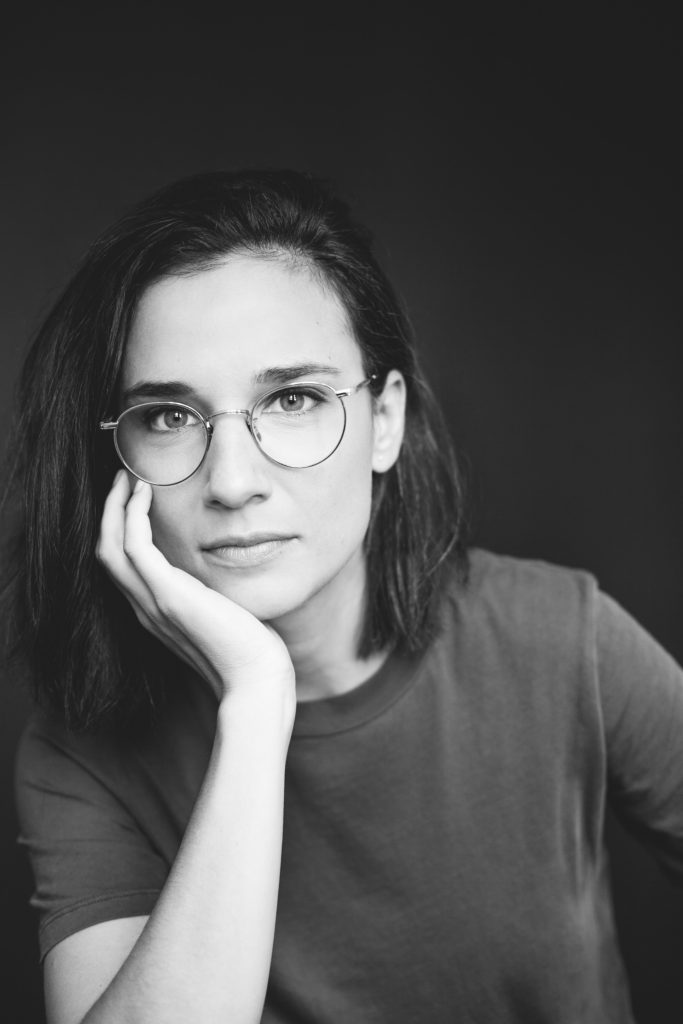 Photo credits : Eva Maude TC
Chloé Robichaud
Director | Screenwriter
Chloé Robichaud has already an impressive track record. In 2013, the screenwriter and director made the Official Selection at the Cannes Film Festival for the second year in a row with her first feature, Sarah préfère la course. The film starring Sophie Desmarais and Jean-Sébastien Courchesne, explores the compromises a young athlete must make in order to achieve her goal. Robichaud enjoys all facets of filmmaking, which is why she writes her films from treatment to script as well as directing and often editing them. In 2012, her short film Chef de meute was screened at Cannes, where it was nominated for the Palme d'or for short films. It was also nominated for a Jutra Award and a Canadian Screen and was named to Canada's Top Ten as well as being shown at numerous international festivals.
In 2016, her most recent film Boundaries, which explores the lives of women politicians, was selected at many prestigious festivals around the world (TIFF, FFVQ). The film won a prestigious price New Director at the Seatle International Film Festival. This coproduction Quebec/ Newfoundland features an impressive distribution with Macha Grenon, Emily VanCamp, Nathalie Doummar, Alexandre Landry, Yves Jacques, Serge Houde, Sophie Faucher and Rémy Girard.
Chloé is also the creator of the Webserie Féminin/féminin, which obtains from its launch in 2014, an international reputation. She has written and directed about ten short films and more than 30 commercials, in addition to music videos for the group Les Incendiaires, Isabelle Boulay, Philippe Brach and Valérie Carpentier.
She just completed the TV Series Street Legal (The Broken Clown Company) and she is currently writing her next feature film Happy Days (Item 7).
Chloé Robichaud was born in Quebec City and lives and works in Montreal. She holds an honours bachelor's degree in film production from Concordia University in Montreal and a diploma in direction from the Institut national de l'image et du son (INIS) in 2010.
Happy Days (Les jours heureux)
In development
Feature film
Screenwriter | Director
Production: Item 7
Boundaries (Pays)
2016
Feature film
Screenwriter, Director
Production: La Boîte à Fanny & Item 7
Awards
Award for New Directors, Seatle International Film Festival, 2017
Palm Springs International Film Festival 2017
Rotterdam International Film Festival 2017
Göteborg International Film Festival 2017
New Directors / New Films 2017
Elles Tournent 2017
TIFF - Official Selection FCVQ 2016
Festival de cinéma de la ville de Québec (FCVQ) 2016
BFI London Film Festival 2016
Gijon International Film Festival 2016
Philadelphia International Film Festival 2016
Atlantic Film Festival 2016
Sudbury Cinefest 2016
Sarah Prefer's to Run (Sarah préfère la course)
2013
Feature film
Screenwriter, Director
La Boîte à Fanny
Awards
Festival de Cannes, France, 2013 -Sélection officielle « Un certain regard »
Rendez-vous du cinéma québécois 2014 - Gilles Carle Award, first or second best feature film.
Vancouver Film Critics Circle 2013 – Best Canadian Actress Sophie Desmarais (Sarah)
Official Selection at TIFF 2013 & TIFF Canada's Top Ten - 2013
Baja international film festival, Mexique, 2013 - Best feature film
Molodist Kiev International Film Festival, Ukraine, 2013 Don Quichotte Price
BFI London Film Festival, Angleterre, 2013 - Education Jury Project Price
Vancouver International Film Festival, Canada, 2013 - Women in Film & Television Artistic Medal Award
Festival du film canadien de Dieppe – Meilleur espoir féminin Sophie Desmarais (Sarah)
Feature Film Best Canadian Artist Song for "Too late" (Ariane Moffatt)
Cinéfest Sudbury 2013
Herd Leader
2012
Short film - HD - 13 min
Producer, Screenwriter, Director, Editor
Awards
Canadian Screen Awards, 2013 - In nomination for Best Canadian Short Film
Jutra, Montréal 2013 - In nomination for Best Short Film Fiction
Collecchio Video Film Festival, 2012 - Best Short Film
Prends ça court! 2013 - Air Canada Price (airplay) , APFTQ Production Team of the Year
Festival des films de la relève 2013 – Public's Choice
Rhode Island International Film Festival 2013 – Jury's Price
Festival du film court de Mont-Tremblant 2013 – Best Screenplay
Tuesday
2011
Short film - HD - 7 min
Screenwriter, Director, Editor
Awards
Selected at Les courts du Québec, Clermont-Ferrand, 2011
Regard sur le court-métrage au Saguenay, Canada, 2012 - In competition
CFC Worldwide Toronto Film Festival, Canada, 2012, In competition
Nature morte
2010
Short film - HD - 11 min
Screenwriter, Director, Editor
Awards
Courts du Québec, Cannes Film Festival, 2011 - In selection
Prize Prends ça court!, 2012 - Nomination
Off-Courts Trouville, 2011- In competition
Festival du cinéma de la ville de Québec, Canada, 2011 - In competition
Festival du nouveau cinema, Montreal, Canada, 2011 - In competition
Presented at Premières Vues
Moi non plus
2010
Short film - Super 16mm - 11 min
Producer, Screenwriter, Director and sound editing
Awards
Coup de coeur at Short Film Corner, Festival de Cannes, France, 2010
Vancouver International Film Festival, Canada-, 2010 - In competition
Festival du nouveau cinema, Montreal, Canada, 2010 - In competition
Prince Edward Island International Film Festival, Canada, 2010 - In competition
Festival international du cinéma francophone en Acadie, 2010 - In competition
Cinéfranco, Toronto, Canada, 2011 - In competition
Rendez-vous du cinéma québécois, Montreal, Canada, 2011 - In competition
Regard sur le court au Saguenay, Canada, 2011 - In competition
Tiburon International Film Festival, 2011 - In competition
Finalist at Prize Prends ça court! 2011
Provincial Tour for Proje©t Y 2011
Québec à Hollywood 2011 - Official Selection
La moitié
2010
Short film - HD - 5 min
Screenwriter, Director, Editor
Maternel
2010
Short film - HD - 7 min
Screenwriter, Director, Editor
Awards
Fantasia Fantastic weekend of Short, 2011 - Best Screenplay
Au revoir Timothy
2009
Short film - 16 mm - 10 min
Screenwriter, Director, Editor
Awards
Festival Proje©t Y 2009 - 2nd Jury Prize
Festiv'elles- 2010 - Best Film Prize
TROP S3
In pre-production
TROP S2
2017
Awards
Gémeaux 2018 – In nomination for Best Director "Épisode 26"
TROP S1
2016
Awards
Gémeaux 2017 – 7 nominations, Montreal QC Canada
Féminin/Féminin Season 1
2014
Webserie, 8 episodes, 95 minutes
Screenwriter Director
LSTW, Carolyne Boucher
Awards
Prix Gémeaux 2015 - Laureate for Best Webserie and Best Actress in a Fiction Webserie (Macha Limonchik)
Marseille WebFest 2015 – Best Editing
Melbourne Webfest 2015 – Best Webserie
Rome WebFest 2015 – Best Actress in an International Webserie (Noémie Yelle)
Gala Arc-en-ciel 2014 - Initiative of the Year Award
Grand Prix Phénicia of Chambre de commerce LGBTQ from Québec (2016)
Prix Gilles Carle - Rendez-vous du cinéma québécois 2014
Birks Price for Women in Film and Television - TIFF (2013)
Price IRIS-Médias du Gala Arc-en-ciel (2013)
Recipient of the Media Future Award at the Media Luncheon (2013)
Recipient of the Lauréat Jeunesse Award from Journal Le Soleil (2013)
Member of the Lieutenant Governor's medal (2005)
Member of the Golden Key Honour Society (2005)
Member of the National Assembly for the young leaders of La Peltrie- 2005
Film Studies (Directing Diploma), INIS Montreal, Canada- 2010
Major in film production- Concordia, Montreal, 2007 to 2010