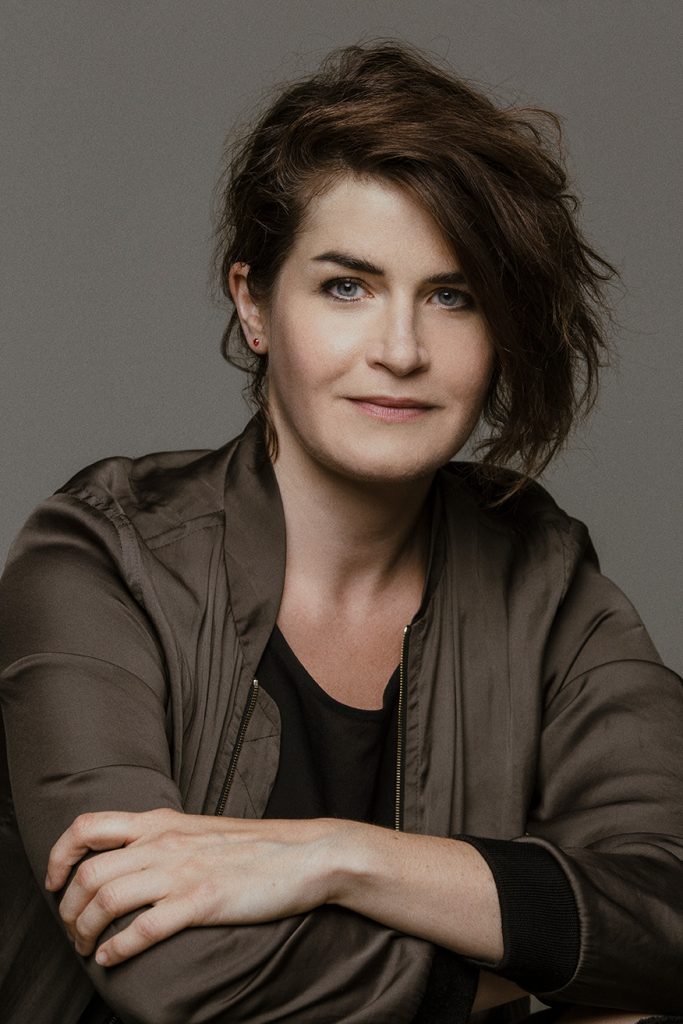 Photo credits : Kelly Jacob
Anne Emond
Director | Screenwriter
Director screenwriter Anne Émond lives and works in Montreal. Between 2005 and 2011, she wrote and directed seven short films, amond them Naissances and Sophie Lavoie, which were screened at several international festivals and won many prizes. In 2011, she directed her first feature film, Nuit #1, presented at more than twenty-five international film festivals, including Busan, Rotterdam, Taipei and the TIFF. The film won several prizes and citations, including Best First Feature at the 2012 Genie Awards and has been sold to ten countries, most notably France and the United States. Our Loved Ones (2015), her second feature, was also well-received and acclaimed (Locarno, TIFF, Le Gala du Cinéma Québécois, Canadian Screen Awards). In 2016, she wrote and directed the feature film Nelly, freely adapted from the life and work of Quebec writer Nelly Arcan. The movie started strongly with TIFF & FIFF and continued its career in numerous festivals throughout the world.
Her latest film, Young Juliet, received very positive critical and public reviews and is now touring festivals around the world, in addition to winning the Audience Award at the Calgary International Film Festival.
Anne is currently working on writing her next feature film, New World.
Young Juliet
In theaters August 9, 2019
Feature film
Screenwriter, Director
Production: Metafilms | Distribution: Maison 4:3
*In theathers in France December 11th, 2019
New World
In development
Feature film
Screenwriter, Director
Production: Metafilms
Nelly
2016
Feature film | Fiction | 99 min | 1.85:1 | color
Screenwriter, Director
Production: Go Films
Feature film inspired by the life and work of Nelly Arcan.
Awards
Canadian Screen Awards 2017:
Achievement in Costume Design - Patricia McNeil
Sonoma International Film Festival 2017:
Film Jury Award for Best World Feature
IRIS 2017:
Best Actress - Mylène Mackay
Best original score - Dear Criminals
Best Makeup - Djina Caron
Best Hairstyling - Martin Lapointe
NOMINATIONS
Canadian Screen Awards 2017:
Costume Design - Patricia McNeil
Cinematography - Josée Deshaies
IRIS 2017:
Best Actress - Mylène Mackay
Cinematography - Josée Deshaies
Best original score - Dear Criminals
Best Makeup - Djina Caron
Best Hairstyling - Martin Lapointe
Film s'étant le plus illustré à l'extérieur du Québec
FESTIVALS
Canadian Film Festival of Bogota, Argentina, 2017
Berkshire International Film Festival, USA, 2017
48 Images Seconde, France, 2017
Canada Now: Best New Films, USA, 2017
Sonoma International Film Festival, USA, 2017
Cleveland International Film Festival, USA, 2017
Focus on French Cinema, USA, 2017
Luxembourg City Film Festival, Luxembourg, 2017
International Film festival of Thrissur, India, 2017
Tournai Ramdam Festival, Belgium, 2017
Pune International Film Festival, India, 2017
Canada's Top Ten Film Festival, Canada, 2017
Palm Spring Film Festival - World Cinema Now Section, USA, 2017
Festival International du film d'Amiens - In Compétition, France, 2016
International Film Festival of India (IFFI) Goa, India, 2016
Stockholm International Film Festival - Official Program, Sweden, 2016
Festival International du Film Francophone Tübingen Stuttgart - Horizons Section, Germany, 2016
Festival International du Film Indépendant de Bordeaux - In Compétition, France, 2016
Mill Valley Film Festival - World Cinema & Mind the Gap Sections, USA, 2016
Vancouver International Film Festival - True North & Canadian Images Sections, Canada, 2016
FIFF- In Competition, Namur, Belgium, 2016
Filmfest Hamburg - Section Voilà! (Francophone films - young and unconventional cinema of a new creative generation of filmmakers from France, Belgium and Québec, Germany, 2016
Festival Film by the Sea - Film & Literature Competition, Netherlands, 2016
TIFF - Official Selection Vanguard Section - World Premiere, Canada, 2016
Our Loved Ones
2015
Feature film | Fiction | Fiction | 102 min | 2K | 1.85:1 | color
Screenwriter, Director
Production: Metafilms
Awards
Prix Outarde for Best Canadian Film, 28e Festival international du film de Baie-Comeau, Québec, 2016
Prix Stella Artois Jay Scott for Best Emerging Director, TFCA Awards, Toronto, 2016
Best Canadian Film, 29e Festival international de cinéma francophone en Acadie, Canada, 2015
Public Prize, 29e Festival international de cinéma francophone en Acadie, Canada, 2015
Nominated for: Best Film, Best Director, Best Actor (Maxim Gaudette), Best Screenplay, Best Editing, Best Art Direction and Best Hairstyling - 18th Jutra awards, Montreal, Canada, 2016
Nominated for: Best Director, Best Screenplay, Best Film, Best Actress in a Leading
Role (Karelle Tremblay), Best Actor in a Leading Role (Maxim Gaudette), Best Original Song and Best Editing - Canadian Screen Awards, 2016
Canada's Top Ten Film Festival (TIFF), Canada, 2016
Official Selection – TIFF, Canada, 2015
Official Selection – Locarno Film Festival, Switzerland, 2015
See the north, Canada, 2016
15th Kaohsiung Film Festival, Taiwan, 2016
3rd Podgorica film festival, Montenegro, 2016
19th Shanghai International Film Festival, China, 2016
40th Seattle International Film Festival, USA, 2016
35th Minneapolis St Paul film festival, USA, 2016
34th International Film Festival, Uruguay, 2016
33th Miami Film Festival, USA, 2016
28th Festival international du film de Baie-Comeau, Québec, 2016
39th Goteborg Film Festival, Sweden, 2016
26th Tromsø Internasjonale Filmfestival, Norway, 2016
15th Canada's Top Ten, Canada, 2016
21st Kolkata International Film Festival, India, 2015
29th Festival International du Cinéma Francophone en Acadie (FICFA), Canada, 2015
3rd Los Cabos Film Festival, Mexico, 2015
9th Dominican Republic Global Film Festival, Dominican Republic, 2015
32nd Festival International du Film Francophone de Tübingen-Stuttgart, Germany, 2015
34th Festival du cinéma international en Abitibi-Témiscamingue (FCIAT) Québec, 2015
44th Festival du Nouveau Cinéma (FNC), Québec, 2015
30th Festival International du Film Francophone de Namur, Belgium, 2015
23rd Hamburg Filmfest, Germany, 2015
34th Vancouver International Film Festival, Canada, 2015
26th Cinéfest Sudbury, Canada, 2015
39th Toronto International Film Festival (TIFF), Canada, 2015
68th Festival del Film Locarno, Switzerland, 2015
Nuit #1
2011
Feature film | Fiction | 91 min | 35mm | 1.37:1 | color
Screenwriter, Director
Production: Metafilms
Sold worldwide:
USA, France, Netherlands, South Korea, Japan, Russia, Spain, India
Awards
Claude-Jutra Award, 32nd Genie Awards (ACCT) - Toronto, Canada 2012
2nd International film of Pau, France, 2011, Pyrénée de la meilleure actrice
40e Festival du nouveau cinéma Montréal, Canada, 2011 - Prix de l'innovation-Daniel Langlois
30th Vancouver International Film Festival, Vancouver, Canada, 2011 - Best Canadian Feature Film
36th Toronto International Film Festival Toronto, Canada, 2011 - (Canada First) Jury's Special Mention
Taipei International Film Festival – Taiwan 2012 – Jury's Special Mention
14Th Jutra Awards, Montreal, Canada, 2012 - In Nomination for Best Film, Best Director, Best Actress
32nd Genie Awards, Toronto, Canada, 2012 - Claude-Jutra Prize, In nomination for Best Actress
FESTIVALS
14th Taipei Film Festival, Taiwan - 2012
Berkshire International Film Festival, USA - 2012
Minneapolis-St.-Paul International Film Festival, USA -2012
27th Guadalajara International Film Festival – Mexico - 2012
International Women's Film Festival Dortmund/Cologne, Germany - 2012
International Film Festival of Uruguay, Montevideo, Uruguay - 2012
Istanbul International Independent Film Festival, Turkish -2012
30 e Rendez-vous du cinéma québécois, Montreal, Canada - 2012
41st Rotterdam International Film Festival, Pays-Bas - 2012
41st Göteborg International Film Festival, Suède - 2012
Rencontres internationales de cinéma de Vincennes, France – 2012
23rd Palm Springs International Film Festival, USA – 2012
10th Pune International Film Festival – India - 2012
2e International Festival of Pau, France - 2011
25 e Festival international du cinéma francophone en Acadie, Moncton, Canada - 2011
15 e Cinéma du Québec à Paris, France - 2011
31 e Festival International du film d'Amiens, France - 2011
28th International French Film of Tubingen, Stuttgart, Germany - 2011
45th Hof International Film Festival, Germany - 2011
40 e Festival du Nouveau Cinéma, Montreal, Canada - 2011
30th Vancouver International Film Festival, Canada - 2011
16th Busan International Film Festival, South Korea - 2011
36th TIFF (Canada First) Toronto, Canada - 2011
Nothing Else
2011
Short film | HD | 14 min
Screenwriter, Director
Production: Metafilms
Awards
Festivals:
Wordwide short film festival, Toronto, 2012
Rendez-vous du cinéma québécois 2011
Short Film Corner – Focus Québec, Cannes, 2011
"Prends ça court" projection in Quebec City, 2011
Vancouver International Film Festival, 2011
Quebec City Film Festival, 2011
Sophie Lavoie
2010
Short film | 35mm | 9 min
Screenwriter, Director
Les films laissés en plans
TV sale: TFO (Canada)
Awards
Air Canada Award, "Prends ça court", 2011
Best Actress Award, "Prends ça court", 2011
Best Short Film at Festival de Tremblant, 2011
Best Short Film at Festival du Nouveau Cinéma (Montréal)
Jutra Awards Nomination for Best Short Film, 2011
Best Short Film at Festival "Vidéaste Recherché"
Festivals:
Toronto International Film Festival, 2010
Festival international du court métrage de Dresde, 2011
Melbourne International Film Festival, 2011
Regard sur le court métrage au Saguenay, 2011
Vancouver Women in Film Festival, 2011
Compilation Québec Gold 2011
Festival du court métrage de Bruxelles, 2011
Festival du film francophone de Namur, 2011
Rendez-vous du cinema québécois Tour
L'ordre des choses
2009
Short film | HD | 16:48 min
Screenwriter & Director
Les films Laissé en plan
TV sale: TFO (Canada)
Awards
Coop Video Award, Best Direction for a short film (RVCQ 2009)
Nomination at Jutra Awards for Best short film, 2010
Festivals:
Off-court de Trouville (France)
Sudbury International Film Festival (Ontario)
Festival international du film francophone en Acadie (Moncton)
St. John's International Women's Film Festival
Naissances
2009
Short film | 35mm | 17:05 min
Screenwriter & Director
Producer: Pass Films
TV sales : CBC (Canada) – RTI SPA (Italy) – TFO (Canada)
Awards
Air Canada Award, « Prends ça court »
Canada's Top Ten 2009
Best Short Film at Francophone Film Festival of Kalamazoo
Jury's Special Metion at Art Film Fest (Slovakia)
Best Narrative Short Film : Brooklyn International Film Festival (New-York)
Festivals:
Toronto International Film Festival (Toronto)
Festival du Nouveau Cinéma (Montreal)
Festival International du film francophone de Namur (Belgium)
Festival international de Clermont-Ferrand – SODEC screening (France)
Rendez-vous du cinéma québécois
Regard sur le court métrage au Saguenay
Art Film Fest IFF Trencianske Teplice (Slovakia)
Mecal International short film festival of Barcelona (Spain)
Film Fest Dresden International Short Film Festival (Germany)
International Festival of Short Films & New Images (Italy)
Brooklyn Int'l Film Festival (USA)
Ourense International Film Festival (Spain)
Le temps pour la rêverie
2009
Short portrait
Screenwriter, Director
SODEC
Short portrait of the filmmaker Catherine Martin
SODEC special request for the 20th anniversary of the "Jeunes Créateurs" program
Excerpts also used for the « National Parks » series produced by CBC
Frédérique au centre
2007
Short film | Super 16mm | 15:59 min
Screenwriter, Director
Les films Laissé en plan
Awards
Festivals:
Rendez-vous du cinéma québécois (Montreal)
Regard sur le court métrage au Saguenay (Saguenay)
Juillet
2006
Short film | 10 min
Screenwriter & Director
La Faction
Brodcast on "Mange ta Ville" TV show (ARTV)
Awards
Festivals:
Rendez-vous du cinéma québécois (Montreal)
Regard sur le court métrage au Saguenay (Saguenay)
Festival international du cinéma francophone acadien (Moncton)
Off-court de Trouville (France)
Qualité de l'air
2005
Short film | 35mm | 11:50 min - UQAM
Screenwriter, Director
Awards
Festivals:
Next Reel Festival (New-York)
Fresh Film Fest (Czech Republic)
Atlantic Film Festival, Honorable mention for Best Canadian short film
Images en Vues (Îles-de-la-Madeleine)
Vancouver International Film Festival (Vancouver)
Le Caméléon (UQAM Festival) Desjardins Award for Best Film, Fiction
Portes tourmentes
2000
Short film | vidéo |12 min - Ahuntsic College
Screenwriter, Director
Awards
First prize: Best Short Film, Fiction
Intercollegiate student Film Festival, 2001
2013: Teacher (replacing Patrice Sauvé, for a month)
- Individual meetings with film students on their screenplays
- Team meetings: supervision of the production of short films
Employer : INIS (Institut national de l'image et du son)
2006-2009: Production Manager
- Budget management, scheduling, team, timelines
- Relationship with financial institutions
- Project monitoring
Employer: Les Films de l'Isle, Montréal, Qc
2005-2006: Distribution coordinator
- organizing interviews and press screenings for theatrical release and DVD
- coordination of transfer and transport of copies
Employer: K-Films Amérique, Montreal, Qc
2004-2006: Video editing
- video editing (image and sound) for various productions (corporate, commercials, shows, weddings, etc)
Employer: Union Films Productions, Laval, Qc
Gaby Bernier
In development
Screenwriter, Director
Zone 3
2005 Grant from Académie Canadienne du Cinéma et de la Télévision
National learning program (Screenwriting support), 2005
Screenwriting internship, Ramdam TV show (Vivavision)
2000 "Exil au Texas ou extase au Texil", short story, 13 pages
Second Provincial Award
Critère Literary Contest, 1999-2000
2013 Teacher (in replacement of Director Patrice Sauvé, for one month)
- Individual meetings with film students about their scenarios
- Meetings of teams: supervision of the production of short films
Employer: INIS (National Institute of Image and Sound)
2006-2009 Production Director
- Management of budget, schedule, team, schedules
- Relationship with funding institutions
- Monitoring projects in development
Employer: Les Films de l'Isle, Montreal, Qc
2005-2006 Distribution Coordinator
- organize interviews and press screenings for theatrical and dvd outings
- coordinate the transfer and transport of copies
Employer: K-Films America, Montreal, Qc
2004-2006 Video editing
- edit the image and sound of various video productions (corporate, commercials, shows, weddings, etc.)
Employer: Union Films Productions, Laval, Qc
2011 Jury for Student Film Contest - Projet Y
2011 Jury for Student Film Contest- Rendez-vous du cinéma québécois
2010 Panel Conference participation « Cinéaste de demain à conjuguer au féminin » Rendez-vous du cinéma québécois
2010 Table ronde « Rencontre avec les cinéastes »
Festival Regard sur le court métrage au Saguenay
2002 – 2005 Bachelor's degree in communications, cinema profile.
Université du Québec à Montréal, Montréal